Obeikan designs and delivers complete educational experiences that stimulate young minds and prepare the next generation for a lifetime of success.
Pre-school education is more than preparation for kindergarten. Done well, Pre-school education supports a child's social, emotional, cognitive, and physical development—essential groundwork for lifelong learning and wellbeing. The pre-school  stage helps in building child personality significantly, if this stage was exploited perfectly for the sake of child under supervision of teachers/nursemaids with high efficiency and capability to deal with children according to their personal distinctions, it would form a strong and consistent personality of the child. 
At Obeikan Education, we realize that building high- quality early childhood solutions requires resources and support in four key areas: curriculum, assessment, professional development, and family connection. With the valuable support and value added from our world-class partners, we feel that we are uniquely positioned to achieving the educational goals for the Preschool Education organization as set. We have partnered with Teaching Strategies USA to offer The Creative Curriculum, a fully integrated and localized system that addresses all of the essential aspects of early childhood education. The elements of this turnkey solution include:
Ongoing quality assurance
Family outreach resources
Educational materials for students
Assessment implementation
Classroom set-up and operation
Professional development
for teachers, assistants, supervisors and principals
Obeikan Education is the developer and publisher of the Arabic Edition of The Creative Curriculum, and the exclusive partner of Teaching Strategies International in the Middle East. We have trained more than 300 teachers. To date, more than 2300 children have learned from it.  Regional projects deploying our pre-school solutions (The Creative Curriculum) include:
Ministry of Education—Pilot Project, Riyadh
Tatweer—Pilot Projects, Dammam and Hail
Princess Nora bint Abdul Rahman University, Riyadh
Qatar Foundation School, Doha
Zayed University, Abu Dhabi
Ministry of Education, Qatar
Abu Dhabi Presidential Palace.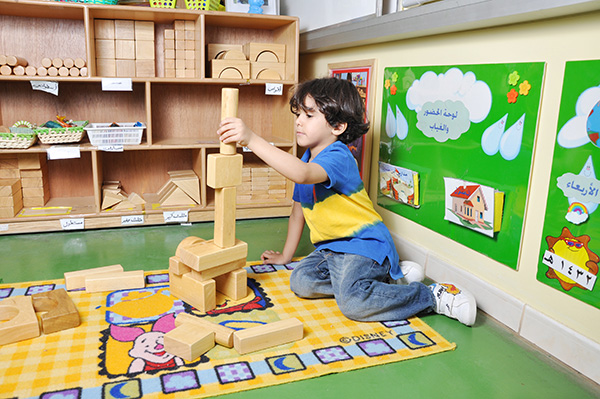 About The Creative Curriculum
A comprehensive creative research and study-based system, designed to help teachers, at all levels of experiences, to focus on the basic understanding of child development aspects. The creative curriculum that is based on the high standards and best practices over 30 years, is characterized by the following:
N Knowing how children develop and learn and the characteristics and experiences that make each child unique
NCreating a responsive, rich learning environment, a daily schedule, and weekly plans
NThat provide direction but allow flexibility
NUnderstanding what children are learning in the areas of language and literacy, mathematics, science, social studies, the arts, and technology
NUsing a variety of intentional teaching strategies to build positive relationships with children, teach all children effectively, follow their progress, and guide their behavior
NBuilding meaningful partnerships with families to support children's optimal development and learning
Package Components
The six Teaching Guides in The Creative Curriculum® System provide daily support for the entire school year. They will help you create a positive classroom community and fill every period of each day with meaningful learning experiences. The Teaching Guides are Comprehensive, detailed plans that span several weeks and provide helpful information about developmentally appropriate best practices.
Mighty Minutes™ are songs, chants, rhymes, games, and short activities that help you turn every minute of the day into a learning opportunity. The Teaching Strategies® Children's Book Collection contains (61 in English &77more in Arabic) to inspire a love for reading and to promote language and literacy skills. Book Discussion Cards that have complex story lines, recommended by early childhood education experts.
Assessment is an Authentic, ongoing assessment that is essential to planning appropriate learning experiences and helping all children succeed.
Family connection by developing partnerships with families is an essential part of any high-quality early childhood program, helping teachers and families work together to support children's development and learning best.
Parent Guide Series helps families understand what their children are doing during the preschool day and how families can support the development of math and literacy skills at home through simple, everyday routines and activities.
The Creative Curriculum Our award- winning Learning Games, research-validated series provides engaging, fun early learning activities for teachers to introduce in the classroom and share with families to use at home.
At Obeikan Education and Teaching Strategies, we recognize the importance and role of early childhood professional development programs, as they enhance and develop the skills and knowledge of workers in this field. This can be fulfilled with the good preparation for teachers and equipping them with the skills necessary to ensure this.