Light and airy, yet durable and stable. Form possibilities limited only by the imagination, and spans that may just exceed it. Eco-friendly and with a short building time. That describes the architectural solutions designed and implemented by Obeikan Tensile Structures.
Obeikan Tensile Structures (OTS) designs, fabricates and installs architectural solutions like tents, sails and shades that integrate technical fabrics and supporting structural ironworks. Our structures give functional protection from the elements while making a definitive design statement and adding character to a site.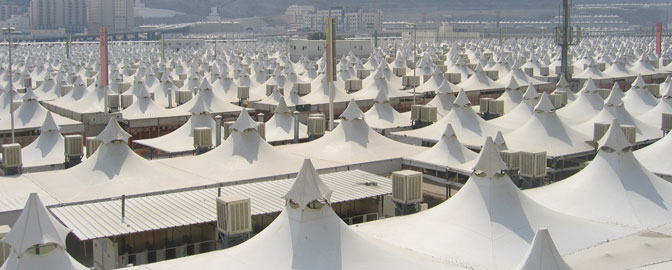 A leader in the field since 1998, OTS has completed more than 400 projects around the world. Marquee OTS projects include the manufacture and installation of 40,000 wired and plumbed tents in Mina to provide fire-safe accommodation for pilgrims during the Hajj, and more than 100,000 square meters of shading for solar protection of the main parking lot at New Jeddah Airport.